Biography
(from Wikipedia) Ronald Tavel (May 17, 1936 – March 23, 2009) was an American writer, director and actor, best known for his work with Andy Warhol and The Factory.
Early Life
Tavel was born in New York in May 1936. He was appointed Artist-in-Residence to The Yale University Divinity School in 1975 for his contributions to formal theology and religious theatre (notably, the Obie-Award winning play BIGFOOT): believed to be the first such position ever established at a Protestant divinity school. Re-appointed to that position in 1977 (for the 3-act play GAZELLE BOY). Appointed First Playwright-in-Residence at Cornell University, 1980, where he was commissioned to write the melodrama, THE UNDERSTUDY, which starred a young Jimmy Smitts.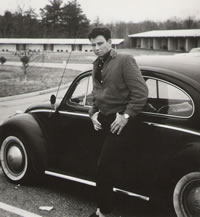 Also received the Obie Award for Outstanding Contribution to Theater, 1969, for the musical drama BOY ON THE STRAIGHT-BACK CHAIR. Appointed Distinguished Visiting Assistant Professor in Creative Writing at The University of Colorado at Boulder, 1986-87. Appears in a spate of theatrical and TV documentaries, released since 1989, on painting, postmodern art, and independent films. Was asked by the U.S. State Department to represent Andy Warhol and himself at the city-wide Andy Warhol Festival in Moscow, June-July 2001, where he also staged his play THE LIFE OF JUANITA CASTRO with an all-Russian cast.
Career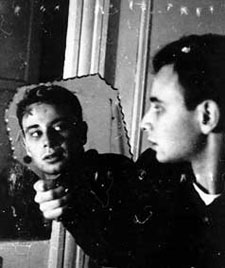 Tavel was the screenwriter on Chelsea Girls, a 1966 film directed by Paul Morrissey and Andy Warhol. He wrote or co-wrote numerous other Warhol films. Tavel worked with other members of Warhol's Factory crowd, including Freddie Herko, Ondine, Mary Woronov, Billy Name, and Brigid Berlin. Tavel also founded, named, and was heavily involved with the Playhouse of the Ridiculous, a New York City theatre presenting works produced and directed by John Vaccaro and Harvey Tavel and Charles Ludlam. Ronald Tavel provided the one-sentence manifesto for The Theatre of the Ridiculous: "We have passed beyond the Absurd: our position is absolutely preposterous." (end of Wikipedia content)
The Theatre of the Ridiculous
Ronald Tavel invented the designation Theatre of The Ridiculous to identify the vision and styles of what would be, to date, his more than forty produced stage plays.
While still in college and studying the Theatre of The Absurd, he asked himself, hat could come next? A theatre of The Ridiculous?That mode in its satiric mood would shortly thereinafter manifest itself in a classroom "Christmas Show", which his playwriting instructor ordered him to compose. The latter was so outraged by the production that he came close to flunking Tavel in playwriting.
When his first professional stage production, the two one-act plays, SHOWER and THE LIFE OF JUANITA CASTRO, were getting set to premiere on July 29, 1965 at the Coda Gallery on East 10th Street near Fourth Avenue in New York, Tavel felt the need for an overall title for the evening, since American audiences then tended to prefer a single experience as opposed to unrelated short pieces. He immediately decided that the name, The Theatre of The Ridiculous, would suit these one-acts and wrote a one-line manifesto for the program to justify his choice: e have passed beyond the absurd: our position is absolutely preposterous.The plays opened to large crowds and positive reviews and were moved to a commercial venue, the St. Mark Playhouse, on Second Avenue, in September of 1965.
When loosely the same group of players, under John Vaccaro direction, and using the identification, Theatre of The Ridiculous, opened their third play in April 1966, Ronald Tavel THE LIFE OF LADY GODIVA, in a flight-up hall at 13 West 17th Street, the city objected to a space more than three steps above the pavement being called a theater. So Tavel, making capital of the pun, changed the company name to Play-House of The Ridiculous.
In the autumn of that year, the company next production, the Tavel one-acts, SCREEN TEST and INDIRA GANDHI DARING DEVICE, became a hit, a cause celebre, and an international scandal (see, The New York Times, March 29, 1967, p. 37, Foreign Minister, etc. by Joseph Lelyveld; and The Village Voice, March 9, 1967, Appeal to Washington by Don McNeill). A division in the group began to surface in the matter of how to handle this affair.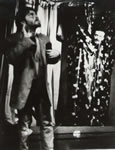 Tavel then set about to display his full playwriting skills, but when he offered a long and elaborate work, GORILLA QUEEN, to the company, Vaccaro felt he couldn direct it. Instead, Harvey (or Doc Harv) Tavel directed his brother one-act KITCHENETTE and a revival of JUANITA in January and February 1967 as a replacement, and a quick way to pay the group bills. This production earned the Play-House its first Obie Award (for Best Actor for Eddie McCarty). Then the brothers left the Play-House and Tavel offered GORILLA QUEEN to the Judson Memorial Church on Washington Square. The Church opened the epic as its Easter presentation to a rave review from the NY Times and sold it in three days to a commercial run at the Martinique Theater. Tavel showcased another epic, ARENAS OF LUTECIA, at the Judson the following spring. This co-starred the statuesque beauty, Mary Woronov, and Edie McCarty.
In the meantime, Vaccaro turned to the actor Charles Ludlam for a playwright, and when these two quarreled, Ludlam withdrew and formed a group called the Gloxina. Dissatisfied with that name and at an imaginary loss, Ludlam returned to the Tavel label, Ridiculous. He renamed his group Ridiculous Theatrical Company, apparently never seeing the self-deprecation in using the technical noun as an adjective.
Doc Harv Tavel then directed Tavel one-act play VINYL at the Caffe Cino (1967) with dancer Ray Edwards, singer Mike St. Shaw, and Mary Woronov in the role of the sadistic physician. Ronald Tavel next full-length, a musical called BOY ON THE STRAIGHT-BACK CHAIR, was presented commercially at the prestigious American Place Theater (1969) where it won an Obie Award for Outstanding Achievement in Playwriting.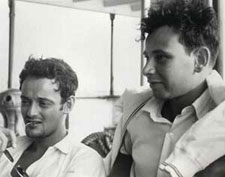 Another Obie Award for Best Play went to BIGFOOT (1972, at Theater Genesis, in the St. Marks on the Bouwerie Church, Second Avenue and 10th Street). This work is Tavel only formal tragedy. He and many critics consider it his finest play and it earned him the position of First Artist-in-Residence at The Yale University Divinity School in 1975. He was reappointed to that post in 1977 for his lyrical drama, GAZELLE BOY. Both BIGFOOT and GAZELLE BOY extend the meaning, subject matter, and dramatic scope of The Ridiculous.
Ronald Tavel never registered the label, Theatre of The Ridiculous, at City Hall, believing that if he alone used it, it might well be forgotten. But he did not anticipate that the three or more companies (including one in Paris), which subsequently adopted the label, would merely imitate some of the stylistic, surface qualities of his early satiric stage work: and never probe their, or his, later themes mythic, religious, political, or otherwise.
Other accounts of the coining of the phrase, Theatre of The Ridiculous, appear on the Internet and in various publications. But any account differing from the above is patently false.
As Andy Warhol's Factory Writer
Ronald Tavel wrote his first verse play, TOLTEC, while still a teenager. He also wrote two children plays when he collaborated with the late pianist and actor, Eddie McCarty. But he had no actual stage production until midway into his collaboration with the artist and filmmaker, Andy Warhol (November 1964 to March 1967). Andy sought out Tavel for his upcoming experiments in sound movies (Tavel's voice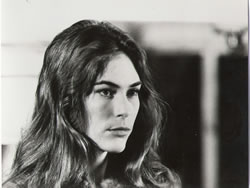 was said to be mixture of cat and cobra) and following his voiceover in HARLOT (where he directs a three-man conversation) and his posing for a Living Portrait in December 1964 (listed by MoMA as the RONALD TAVEL SCREEN TEST), Warhol asked him to write promotionals, diaries, and screenplays. Tavel then wrote the only screenplays (14, including the THEIR TOWN and HANOI HANNA sequences in THE CHELSEA GIRLS), which were actually used in what the Whitney Museum of American Art now defines as the real Warhol films. He wrote four more scripts for Andy (SHOWER, KAHUNA!, WORDS FOR MARY WORONOV, and INDIRA), which were never filmed; and appears as a performer in an additional four. A number of these film scripts were later converted into stage plays.
Tavel appears in four film documentaries on Andy Warhol, including the as-yet unreleased one being shot by Ric Burns. SCREEN TEST #2 (written, directed by, and starring Tavel and Mario Montez) has become one of the most rented movies in MoMA Circulating Film Library due almost entirely to a study of it by theorist Douglas Crimp: ario Montez: for Shamein Regarding Sedgwick: Essays on Queer Culture and Critical Theory (New York: Routledge, 2002; also in German, Spanish, and Polish).
As Collaborator with Jack Smith
There currently is a growing interest in Ronald Tavel collaboration with the photographer, filmmaker, and architect Jack Smith (b. 1932- d. 1989). Tavel knew Smith for twenty-two years and worked on and off with him over that period: as a model for his still-photography, set and soundman for FLAMING CREATURES, writer of the inter-titles for BUZZARDS OVER BAGDAD, and actor in the 1984 stage play, ATTACK OF THE BRASSIERE MAIDENS. Tavel appears discussing his relationship with Smith in a Mary Jordan/Ken Wayne Peralta film documentary on Jack Smith, (working title: JACK SMITH AND THE DESTRUCTION OF ATLANTIS), set for release in 2006.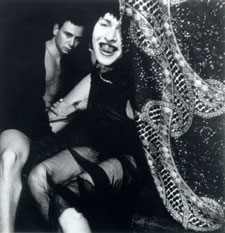 In Asia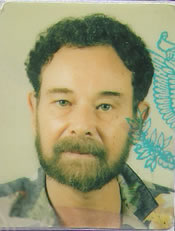 Ronald Tavel lived in North Africa when he was young and his first published novel, STREET OF STAIRS (Olympia Press, 1968: in English and German), is set in Morocco and Rio de Oro. When he left his position as First Playwright-in-Residence at Cornell University (1980-81), Tavel traveled to Asia and stayed for a year in Bangkok with his school chum, the late linguist Ronald Kutny. He received a Fulbright-Hayes Fellowship to Taipei in 1993 and taught contemporary poetry and screen and play writing at National Taiwan University until August 1995. His melodrama, THE UNDERSTUDY, is published in Mandarin as well as English. He returned to Bangkok for a brief stay in 1995 and to Taipei for one month in 1996. In 1997, he went to Bangkok once again to work on a new novel, CHAIN, and he has remained living there until the present.
Filmography, as actor (Partial)
ANDY WARHOL: A DOCUMENTARY FILM (as himself, 2007)
ANDY WARHOL: THE COMPLETE PICTURE
Chelsea Girls – 1966
Hedy – 1966
Kitchen – 1965
The Life of Juanita Castro – 1965 (as the Stage Manager and ON-SCREEN director)
Poor Little Rich Girl – 1965
Horse – 1965 (as Illuminary)
Screen Test #1 – 1965 (as off-screen interogator)
Screen Test #2 – 1965 (as off-screen interogator)
Vinyl – 1965
JACK SMITH AND THE DESTRUCTION OF ATLANTIS (as himself, heavily edited)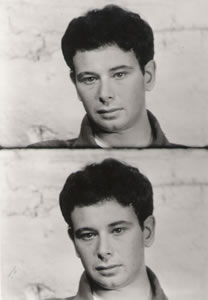 Filmography, as Screenwriter (Partial)
WITHERING SIGHTS (1966)
SPACE (1965)
Also worked with: The Velvet Underground, which scored his films HEDY and THEIR TOWN (later incorporated into THE CHELSEA GIRLS).
What the Critics had to say…
Ronald Tavel is one of the four or five artists in America.
– Martin Gottfried, Theater Critic, WOMENS WEAR DAILY, 1974
America Aristophanes
– Mel Gussow, Theater Critic, THE NEW YORK TIMES, 1973
Ronald Tavel may well be the best young playwright around
– Jack Kroll, Arts Editor, NEWSWEEK MAGAZINE, 1967
Ronald Tavel is the best kept secret in the American arts.
– Ron Norman, Editor-in-Chief, BLACKLIST MAGAZINE, 2007
One of the greatest American Playwrights. Ronald Tavel is my favorite American writer.
– Michael Silverblatt, THE BOOKWORM, KCRW-FM, nationally syndicated (40 stations) radio program on books and authors, 1996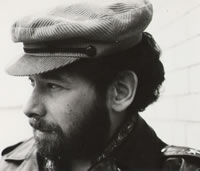 No reading of the literature of the second half of the 20th Century is complete without Ronald Tavel.
– Ed Leffingwell, Art Critic, ART FORUM MAGAZINE, 1996
Our first and best interview for ANDY WARHOL: A DOCUMENTARY FILM was Ronald Tavel.
– Ric Burns, TV Documentary Maker, 2007
The two people I learned the most from about Andy Warhol are his assistant, Gerard Malanga, and his screenwriter, Ronald Tavel
– Callie Angell, Assistant Director, The Andy Warhol Film Project, The Whitney Museum of American Art.
THE LIFE OF JUANITA CASTRO is an unheralded masterpiece. The creative force behind it is Ronnie Tavel, who wrote the script and plays the role of the Stage Manager.
– Andrew Sarris, Film Critic, THE VILLAGE VOICE, 1965
GORILLA QUEEN is the craziest play I have ever seen, and that includes other plays by RonaldcTavel It is beyond art, beyond obscenity, beyond belief.
– Michael Smith, The Best of Off-Off Broadway (E.P. Dutton & Co., New York: 1969)
Grants and Fellowships
1970: the American Place Theatre Grant in Playwritng
1971-72: The Creative Artists Public Service Program Grant in Playwriting
1972: The Rockefeller Foundation Stipend in Playwriting
1973: The John Simon Guggenheim Memorial Foundation Fellowship in creative writing for the theatre
1973-74: The Creative Artists Public Service Program Grant in Playwriting
1974-75: The National Endowment for the Arts Fellowship in creative writing
1975-76: The New York State Council on the Arts Younger Audience Play commission
1976: The ZBS Foundation AIR Stipend for Audio-drama
1978: The Rockefeller Foundation Stipend in Playwriting
1982-83, 1984-85, 1985-86, 1988, 1989: The Theatre for the New City Play Commissions
1985-86: The New York foundation for the Arts Fellowship Award in Playwriting/Screen writing
1986: The Edna St. Vincent Millay Colony for the Arts Fellowship, New York State (February)
1986: The Yaddo Fellowship, AIR New York State (March-April)
1988: The MacDowell Colony Fellowship, New Hampshire (October-November)
1990: the Edward F. Albee Foundation Fellowship (September)
September 1993 to August 1995: The Fulbright-Hayes Senior Scholar Fellowship to The Republic of China
2003: The Brooklyn Academy of Music poetry commission.
Misinformation Highway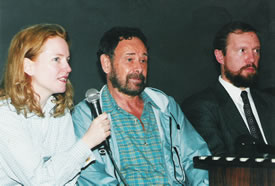 As far as the Ridiculous goes, those now leading the parade down the Misinformation Highway are Steven Watson, Bonnie Marranca, Victor Bockris, and David Dalton.
Watson recent book, FACTORY MADE: Warhol and the Sixties, was created on the computer: first by lifting the passages he desired from numerous publications and then arranging them in roughly chronological order. There remained the writing of fill-ins that hopefully would link them. As the reviewers noted, they don.
The result is choppy and disconnected, and a subtle illogic pervades the entire book. This is to say nothing of the many pages lifted from articles and interviews without credit, the faulty research, the innumerable factual errors and contradictions, the invasions of privacy and blatant violations of copyright. Watson has little or no idea of what The Ridiculous is and thinks nothing of describing Warhol films he has never seen. When approached pre-publication with suggestions to amend many of the mistakes, he ignored them.
Some years ago, Watson sponsored a presentation of Ridiculous Theatre in the West Village in which he entioned Tavel name. When the enormity of this was called to his attention, he decided, pridefully, to stick to his guns and rewrite history rather than admit to outrageous error.
Bonnie Marranca has a similar problem. Her opportunistic book, Theater of The Ridiculous is a model of non-research and historical inaccuracy. Her second edition of the self-published book compounds the misconceptions. Matthias Haas and Marc Siegel organized a conference on the Theatre of the Ridiculous in Cologne in the mid-nineties. They invited Marranca and her husband Gautam Dasgupta to participate. The two appeared without a paper to deliver and, according to Haas and Siegel, had nothing coherent to say. Marranca had spoken to Ronald Tavel shortly before the conference, but did not mention it. She was also in contact with his agent at the time who handled many playwrights; and who, as a matter of course, always knew her clientswhereabouts. Frustrated by Marranca apparent ignorance and total lack of acceptable scholarship, and hoping to get a clearer picture of the movement, Matthias Haas asked Marranca where Tavel was now. She said: don know. Somewhere in Asia. Victor Bockris wrote most of the biography, Warhol, back in the eighties. The tome was initially published in England. Informed that Americans lacked the patience and intelligence to read such a long book, Bockris did not hesitate to cut it by almost half for the Stateside publication and earned the critical observation: e can see the forest for the trees.
David Dalton A Year in the Life of Andy Warhol (2003) reads as if written for tabloid readers. Dalton actually believed VINYL and KITCHEN were improvised films. Remember the expression: he actors make it up as they go along This may be a tribute to the uncanny quality of both films; but since both were published back in the sixties, what does this say about Dalton research? And keen perception?
The art of the American sixties was indeed light-years ahead of where American art is now. But if publishers leave it to the likes of Watson, Marranca, Bockris, and Dalton, we shall never know why.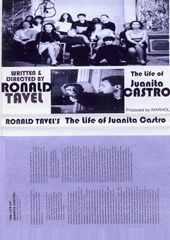 The Interviewer Interviewed (A General Disclaimer)
Inevitably, this incompetent grave excavating would take a swing at TV and film with their more mechanized methods of distortion. The TV documentary has been formulated into sight-and-sound bytes of interrogated heads, interspersed with atmospheric shots of buildings (pertinent to the matter or not), neighborhoods, news-clips, supposed acquaintances, musing critics, sideliners, and cemeteries. The filmmakers often start with a subject, arbitrary but for the possibility that they might be able to raise funds for an entertainment related to such a subject; and the hope that with sufficient footage of authorities addressing themselves to that (in this case) artist, they, the filmmakers, will come up with a theme, a theory, or an argument, which may not be relevant to that artist yet appear to summarize him as if we could claim to know what goes on in other people minds. They cut and paste phrases from the speakers sentences, and, radically rearranging their order, try to sustain a tenable coherence. But, so far, pretending (or believing!) that they are introducing their audience to an unfamiliar personality, all have reduced their labors to a slipshod biopic. The only results audiences can be assured of are that anything of depth or insight, which an observer has managed to assert, will be deleted; that the film has only an inadvertent chance of squeezing beyond the producers question-askers and editors understanding of the artist and his times; and that it is fortunate if their features are marginally interesting.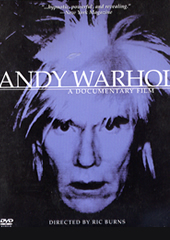 Since, for better or worse, and like it or not, at the present moment Andy Warhol is history most famous and influential artist and not a day can pass in the States without your being able to read his name in the papers or hear it on the radio or TV, we are guaranteed a continual sprinkling, or dump, of spots and docs on him.
I first appeared in a 1989 BBC-TV Channel 4 rundown, lensed in Gramercy Park, NYC, on a generous budget. It currently accessed on the Internet or DVDs. It is called WARHOL CINEMA 1963-1968: MIRROR FOR THE SIXTIES. I was flown to New York from New Orleans, dressed in the cord-collared outfit I most commonly wore in Factory flicks, and interviewed at length both sitting (on a traveling trunk) and walking about. And because the Warhol Foundation refused to lease one-time use of clips from the films other than VINYL and CHELSEA GIRLS in which I was involved on the excuse that they were not yet restored (a lie) whittled down to what is politely tagged a 3-shot cameo. MIRROR major contribution is that it was filmed early enough for most of its participants, with the exception of Billy Linich and Taylor Mead, to more or less resemble what they looked like in their Factory days. It would also loosely suggest the cast-list for which of the critics, biographers, and Factory survivors were to appear in future Warhol docs. Whether this is because they are articulate, photogenic, or have few obvious axes to grind is hard to say. Still, as directed by a pioneering Keith Griffiths, J. Hoberman, Amy Taubin, Kenneth Koch, Linich, Mead, Malanga, and etc. ill consider the oeuvre, are often erroneous, and, in retrospect, na. They haven't found their sea legs as yet. Koch perpetuates the superficiality that the films are voyeuristic; Hoberman that they are conceptual (and so can be read about rather than seen); a deeply involved and always attractive Amy Taubin indulges in some unrelated Freudianism's; the charismatic and gray-bearded Billy Linich makes sweeping generalities and so on. Griffiths, who hadn't seen most of the films, doesn't know what questions to ask. So what the interviewees say must be taken with a carton of Morton Salt. (Important to note is that any number of persons crucially connected to Warhol declined to go on camera then, and still won now.)
The oddest entry to date in the blitz of Warhol speculations is another British strike called ANDY WARHOL: THE COMPLETE PICTURE which, of course, it is anything but. Chris Rodley produced the confusion, a woman who theorized that Andy was aphasic: and whose ambition it was to prove this. As production got under way, the Andy Warhol Festival Week was announced in Moscow, and Rodley went there determined to make that excitement the background to her film, aphasia getting lost in the scuttle. So did the Festival, perhaps because the city of Moscow asked big bucks or the sponsoring American State Department didn't cotton to the lady horning in. The artist family roots are traced to what is now Russian Ukraine, hence the Soviet interest in a son who made more than good in America.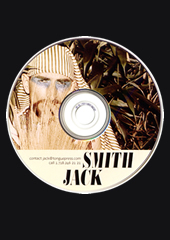 Chris Rodley had intended to host and lens me in London, but when plans were switched to shoot in Moscow and she discovered I was slated to appear at its museums, galleries, and schools, thought to cut on production costs by nailing me gratis there although I already gone to London, after appearances in Berlin and Zurich, to make my Russian visa, as prearranged. An argument broke out in Moscow Film Museum re this connivance. Rodley begrudgingly gave in and literally opened her loaded purse. Nevertheless, although I was in a state over this scam and so in fine fettle to deliver a furious interview, she subsequently took her revenge: and, despite confessing to being dazzled by my info, (hat stories! and performance, bit off her own nose by trimming my tales to a few innocuous comments. For the morbidly curious, THE COMPLETE PICTURE has a saving grace: a segue into the only clip of me from FIFTY FANTASTICKS currently available on DVD. The contrast between what I look like in 1964, merely tense, and in a fury in 2001 is startling au moins dire. When I was a kid, my neighbors used to moan: time is a terrible thing.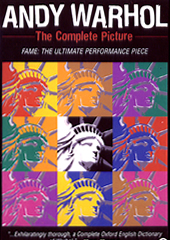 Reigning in ambition to encapsulate the Pop artist, as of 2007, is Ric Burns four-hour, multimillion-dollar epic, ANDY WARHOL: A FILM DOCUMENTARY. Ed and Ric Burns are America foremost TV documentary makers. Mr. Burns approached me with his angle, his belief that Andy is the representative personality of the second half of the 20th Century that that entire period is culturally reflected in Warhol. The movie took years to make and was 3.7 million in the red when completed. I dutifully considered Burns stated evaluation and furnished the reasons why some have labeled Warhol the Father of Deconstruction, what deconstructionism is, why its program is desirable, and how it has altered every human discipline. Note that Jacques Derrida, normally identified as the Father of Deconstruction, did not announce or analyze that movement until 1967, when Warhol was nearing the end of his filmic output.
Naturally, whatever I testified to in this area was dropped, and Burns favored us with yet another biopic: whose sustaining thrust is the beatification of Warhol. It closely suggests that he died for our sins. If you're thinking along those lines, wouldn't the opposite be more appropriate: that we died for his?
Still, I manage to preside, especially in the last two hours. And it is to Mr. Burns credit that when I specify what I feel is my key disclosure in film in the movie HORSE Ric Burns, having located those exact and bare few seconds, excerpts them from HORSE and reproduces them for the skeptical.
I think my most comprehensive testimony on camera was a straight five-hour grill for TV Channel VH1, shot in November 2006, at Paramount Studios Headquarters on Sixth Avenue, NYC. It is for a proposed series, LORDS OF THE REVOLUTION (episode 1) to be aired on VH1, a rock channel at the present time second in popularity only to MTV. Of course, a thin fraction of what I said will surface in the series, but the enthusiastic young crew, shrewdly helmed by Ted Kim, my actual interviewer, assured me that the entire five hours will be preserved on Betamax, stored in Paramount archives, and unlocked for future researchers. Photographer Kevin Kushel 350 portraits of me were made during this uninterrupted inquisition.
The Internet has recently been bombarded with contentious propaganda, largely to the purpose of defaming performance-artist Penny Arcade and critic J. Hoberman, who rent the storage room where Jack Smith creations are assembled with, evidently, the $8,000 to $13,000 per annum derived from screenings of his films. The notices declare that both are illegally withholding his later still-photography, rightfully the property of Smith surviving sister, from documentary movie exploitation and the establishing of a Smith museum. All this estate hassling for an uncertainty by Mary Jordan called JACK SMITH AND THE DESTRUCTION OF ATLANTIS (at the moment, on DVD). Wags call it THE DESTRUCTION OF JACK SMITH because, defying Smith own studious pace when filming, it assaults the eye and ear with split-second images and three or four words yanked from actors models and historians thoughts, thus reinforcing every evil that sketcher,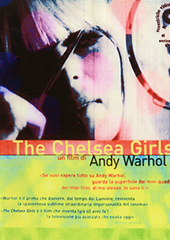 architect, filmmaker, and essayist Jack Smith fought against all his life; and due to which he virtually starved. In the 60s, Smith held the reins on an empire that rivaled Andy Factory. The NY Times noted that in DESTRUCTION he comes off as a ratingly self-aggrandizing fringe-artist (whatever that is). We learn that he received a lifelong monthly check from his RN-mother: and so his celebrated Utopianism art should be free everything should be free! develops clay feet. There is no sense of his galvanizing charisma, his psychotically painstaking attention to detail, his self-described sadness and insulation, his intriguing manifesto that a work of art may be started but never finished. Thousands of revealing feet of footage of his world-famous stars and coworkers including Mario and Agosto Machado in current drag and the heartbreaking struggle to articulate (in a Parisian bar) of the late international actress Tina Aumont, the only daughter of Smith idol, Maria Montez were dropped during the mindless editing and re-editing; and by the time we see a stock shot of snow-swept lower Broadway, according to first-nighter, fashion designer and magazine layout-man Silvano Nova, the groaning audience realizes this flicker is going nowhere.
My own outtakes include more than three hours of musings shot in a Bangkok beer garden, musically scored with the cackling opinions of rare local birds during their feuding season; and two further hours in my chaotic, tellingly-wallpapered and cluttered Thai apartment. These recollections and analyses of Smith life and devotion to Maria Montez, lensed on December 3, 2003, were replaced by seconds-long extraneous asides clipped from an ill lit session the following November in Jordan lower Manhattan loft. In them, you see the tension trenched in my face as I slowly realize I am being fed responses to fill in the gaps in a cliché biopic; and that my previous thoughts in an appropriately exotic Smith setting are about to end up, as Smith would snigger, on the cutting room floor. It was my emptiest interview in 41 years of being interviewed. (Incidentally, Michael Spencer, a South African news correspondent, with whom I spent two weeks vetting and the transcending, quintessential Maria Montez in SIREN OF ATLANTIS, plus a conscientious cameraman and soundman, both young Americans working in the Thai film industry, are responsible for the entire, pro bono Bangkok material. This is not to denigrate the Manhattan crew, a group of talented and committed art and movie devotees, and past experts on the complex mysteries of the computer.)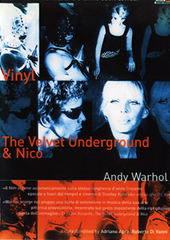 Sadly, the gloss unintended single virtue is the minute and twenty seconds of Betamax clips from WHITE SAVAGE, COBRA WOMAN, and ALI BABA AND THE FORTY THIEVES the finest resolution available because we learn that Universal Studios also uses the corporation-library Betamax print to create all its TV, DVD, and theatrical reissues. Charging an alarming $8,000 per second, Universal limits its lease to 12 years.
My contract for DESTRUCTION emphasized star billing but the producer, Ken Wayne Peralta, evidently suffering from temporary amnesia after viewing the final cut, cut my name from the promos. After seeing it myself, I wondered if I weren fortunate. (Peralta has since amended this.)
Referring to Mary Jordan, the theorist Douglas Crimp summarized the effort in five simple words: he didn't know her subject.
Identity Theft
However, no biopic needs my pointed disclaimer as much as a book of 19th Century American folk songs published by Green Integer Press, L.A., which purports to be written by me and uses a photo of its Editor-in-Chief, Douglas the MessMesserli, as the author portrait. Messerli received more advance orders for a proposed anthology of my screenplays than for any of the thousands of books his three non-royalty-paying and IRS-dodging companies have printed. Lacking the competence to assemble this collection and his contract five-years expired, my relationship with him was dissolved. Apparently frustrated by his own ineptitude, and no novice at scams, Messerli took the dangerous step of borrowing my authorship.
The only other Ronald Tavel in the world is in the Indiana legislative. He is not an authority on folk songs and hardly looks like Messerli. So am I becoming a brand name or just on the way to my lawyer?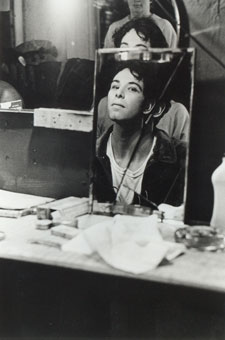 Since the above and as of this writing (mid 2008) I've been interviewed in Thailand and on trips to Germany and the U.S. concerning myself, persons with whom I worked, and persons I knew slightly then and barely remember now. Incrementally, the interviewers display signs of the ineptitude I discuss (David Kaufman writing on The Ridiculous, a genre he hasn't the wherewithal to define, is a strong case in point); thinly disguised venality; an heraldic, homophobic revisionism; and bleak, insatiable curiosity. A fact that needs to be stated and restated is that the Warhol films are amongst the most discussed of all time, and the least seen.
-R. Tavel